Learn how to set up your Samsung Blockchain Keystore-fortified Enjin Wallet.
With the Enjin Wallet's Samsung Blockchain Keystore integration, your transactions and backup phrases are protected by the Samsung Knox TrustZone and Samsung's defense-grade Trusted Execution Environment (TEE) software.


Note: Only Ethereum (ETH), ERC-20 tokens, and ENJ-backed ERC-1155 assets are supported by the Samsung Blockchain Wallet.
Find out here if your device is compatible with the Samsung Blockchain Keystore.
Setup Instructions
Download the Enjin Wallet from the Google Play Store.
If your device is supported by Samsung's Blockchain Keystore, you will be prompted with a screen confirming its compatibility and directing you to use the Samsung Wallet option for setup.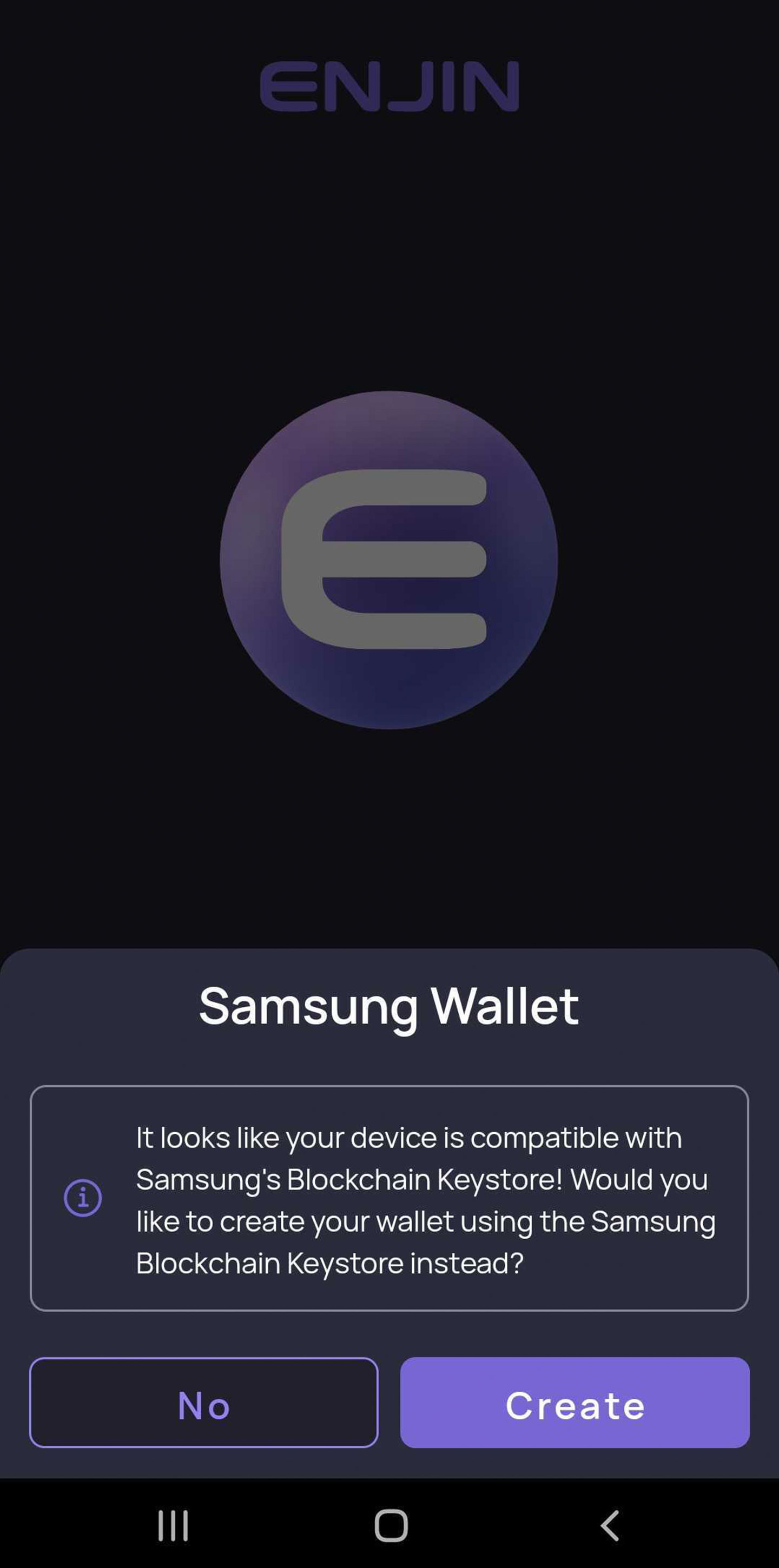 Select "Create" then proceed with the "Samsung Wallet" option.
‍
After selecting the Samsung Wallet option, you will be prompted to read and agree to the Terms and Conditions.
An introductory page about the Samsung Blockchain Keystore will appear. Tap "Continue" to continue.
You will have 2 setup options:
Create
Link
For security purposes, you will need to set a 6-digit PIN to protect your private keys. We recommend writing your PIN down on paper and storing it in a safe place for reference.
Once you've set a PIN, you will also have the option to set fingerprint verification.
As a final security step, write down your 12-word recovery phrase on paper. To ensure you have written down your 12 words correctly, you will also be required to confirm 4 of the words in a random order.
Never reveal your PIN or recovery phrase to anyone!
‍
It's important to write down your 12-word recovery phrase on paper and store it in a safe place!
‍
To complete setup, enable the Auto Add option to automatically add tokens with balances to your wallet.


You can now send and receive ETH, ERC-20 tokens, and ERC-1155 blockchain assets with hardware security fortified by Samsung Blockchain Keystore.