The user interface is designed to be intuitive and straightforward, making it easy for you to navigate and use the platform's features efficiently. This article provides a brief overview of the main features of the Enjin Platform user interface.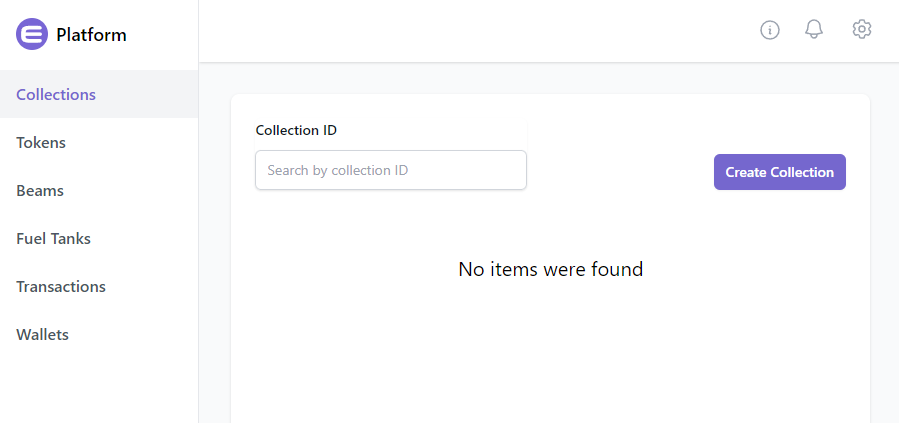 On the left side of your screen, you will see a menu with several options:
Collections: This is where you can create and manage your collections. Collections serve as containers for your tokens, and you have the ability to set specific metadata for each one.

Tokens: Navigate here to create and manage your tokens. Whether they're fungible (interchangeable, like currency) or non-fungible (unique, like artwork), each token is created within a specific collection.

Beams: Beams allow for the seamless distribution of your blockchain assets on the Enjin blockchain. With QR code technology, Beams serve as a tool for marketing, promoting, and distributing digital assets.

Fuel Tanks: Fuel Tanks are pools of funds that can be used to cover transaction costs for users interacting with the Enjin Matrixchain. Navigate here to create and manage your Fuel Tanks, set rules for subsidizing transactions, and monitor usage.

Transactions: This page is where you can monitor the transactions processed by your wallet daemon. You can view the state of each transaction on the blockchain as well as the Transaction ID.

Wallets: This page is currently under development. More information will be provided as it becomes available.
Remember, Enjin's platform is designed to streamline the process of creating, managing, and distributing blockchain assets, offering a user-friendly interface that makes it easy to navigate through the platform. As always, our support team is available to assist if you encounter any issues or have any questions.
Happy exploring!