Get started with the Enjin Platform creating an platform account
The Enjin Platform is a blockchain PaaS (Platform as a Service) that allows you to create and manage blockchain games without the complexity of building and maintaining the infrastructure typically associated with developing and launching a blockchain game.
If you are new to the Enjin Platform, this article will guide you through creating an account.

To create an account, register at cloud.enjin.io/signup.

Enter your name, email address, password and complete the security verification, then click the SIGN UP button. you will receive an email to to activate your account.
If you do not receive the verification email, a few things could've happened:
The email is in your spam folder
The email address you entered contained a typo
You accidentally gave us the wrong email address
We can't deliver the email to this address (usually because of corporate firewalls or filtering).
If you continue to experience issues, please try to sign up again.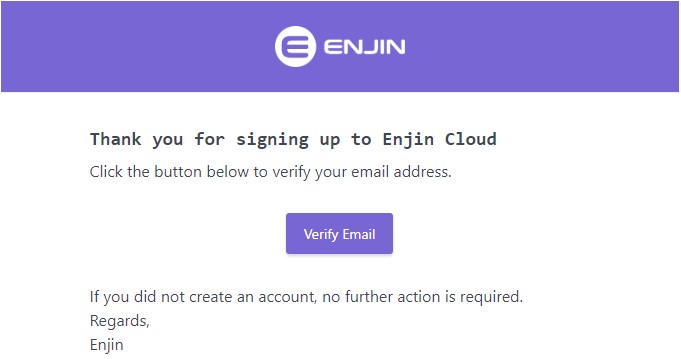 Click the "Verify Email" button in the verification email to complete account setup
Your Enjin Platform account is now ready to use and you will be re-directed to your platform account.

Changing Your Password
To change your password, click the account profile icon on the top-right corner of the screen and select "Account." Here, you can change your account username, email address, and password.
In order to change/update your password, you will need to first enter your old one.
Your new password must be at least 6 characters long. For security purposes, we recommend selecting a strong password, with varying characters, numbers, and symbols.
If you've forgotten your password, follow this guide to reset it.
If you did not receive a password reset email, please contact the Enjin Support Team
If you'd like to test out the Platform on a testnet environment, you can sign up on Goerli Testnet.
You can also try the JumpNet network for gas free transactions.