Find out how you can stay safe by learning common crypto scams and knowing how to avoid them.
The crypto world is unfortunately ripe with scammers, impersonators, and bots trying to get a hold of your funds and wallets. Phishing and other methods are the most common in the crypto space, aiming to steal your personal information and crypto funds.


It's imperative for us, to raise as much awareness as possible about the ever-expanding crypto-threats and common crypto scams so you can stay safe.


In all of the crypto scams out there, a common action that scammers or bots will do, is ask for your Recovery Phrase (your essential 12-word passphrase).
⚠️ Never share your Recovery Phrase (your 12-words) with anyone! We always recommend going with the pen and paper approach: note down your words on paper, and store it somewhere safe.

Enjin Support will never contact you through Telegram DMs, or on any other social media platform. To contact official Enjin Support, please send us an email at support@enjin.io or send us a ticket.
Common Scam Examples
‍1. Social Media Impersonators
Telegram and Twitter are notorious for having the most crypto scams, and phishing attempts out there.
Scammers may impersonate admins, community members, or even official Enjin accounts in an attempt to trick you into divulging your personal details or Recovery Phrase.
On Twitter, for example, an impersonator might create an account that closely resembles the official Enjin account. They could use this account to reply to official Enjin tweets, attempting to convince others that they are interacting with the official Enjin account.
Here are a few ways to identify if you're being scammed on social media:
They ask for your Recovery Phrase.
They ask you to fill out a Google Form.
They redirect you to a suspicious website.
If you suspect a scam, take a close look at the username of the account contacting you. Usernames on social media platforms are unique, meaning that scammers cannot use the exact same username as the official Enjin account. They often resort to subtle tricks, like swapping similar-looking characters. For example, they might use "l" (lowercased 'L') instead of an 'i'. Always verify that the username matches exactly with the official Enjin account to ensure you're interacting with the authentic source.
On the left side we see an official tweet by Enjin, in the right is another official tweet by EnjinSupport, followed by a comment by a scammer impersonating to Enjin Support Desk, notice the username is @Enjin_Dev, while the official Enjin Support username is @EnjinSupport. Also notice that the official Enjin Support account has the Golden Tick and Enjin Icon Brand, while the scam account doesn't.
If you are contacted by an unknown user or bot on any social media platform:
Immediately block and report the user/bot.
Don't engage with the conversation or provide them with any of your information.
Always remain alert and stay vigilant.
With common scammers and impersonators on Telegram, we have also seen an increase in fake Enjin group channels on Telegram, with the intention of luring you in to join the fake channel to promote fake giveaways and 'free' tokens.
Enjin only has two official channels on Telegram:
To easily identify our channels, we have verified stars 🌟 indicating that our channels have been verified and approved by the Telegram team.
‍Fake Enjin group channels will not have a verified tag, and thus are not official by Enjin.


Here are a few examples:
To protect yourself from being added and lured into fake crypto group channels, we recommend you do the following:
Go to your Telegram Settings.
Tap on Privacy and Security.
Tap on Groups.
Enable My Contacts.
This will ensure that only your contacts can add you to groups.‍
Enjin does not host any giveaways outside of our official channels. Please stay alert and vigilant. If ever in doubt, please reach out to our official Enjin Support team.
‍
2. Enjin Phishing Websites
Phishing scams may also try to trick you into believing you are accessing our official website, with the intention of stealing your funds or Recovery Phrase.
To ensure your safety, always double-check the website you're viewing. Enjin's only official website will always start with enjin.io as our main domain. For added security, we recommend typing 'enjin.io' manually into your browser's address bar whenever you want to visit our site. This can help ensure that you remain within our official domain, even if a link you clicked is attempting to redirect you elsewhere.
Bookmark the website to ensure that you are always accessing the correct website.
Enjin will never ask for your Recovery Phrase, nor ask for any funds or tokens from you. If you are being asked for your Recovery Phrase or for your funds, you are being scammed.
‍
3. Smart Contract Exploits
In addition to the aforementioned scams, it's crucial to be aware of smart contract exploits, which scammers can employ to steal assets and tokens from unsuspecting victims. Understanding how these exploits work can help users identify such scams and protect themselves.
One common example of a smart contract exploit involves the Approve function found in the Ethereum ERC-20 token standard. Scammers take advantage of this function by deceiving users into signing the Approve function, masquerading it as a signature for an investment that promises profitable returns.
Once a user unknowingly signs the Approve function, the scammer gains permission to transfer tokens from the victim's wallet on their behalf. This exploitation can result in the loss of valuable tokens.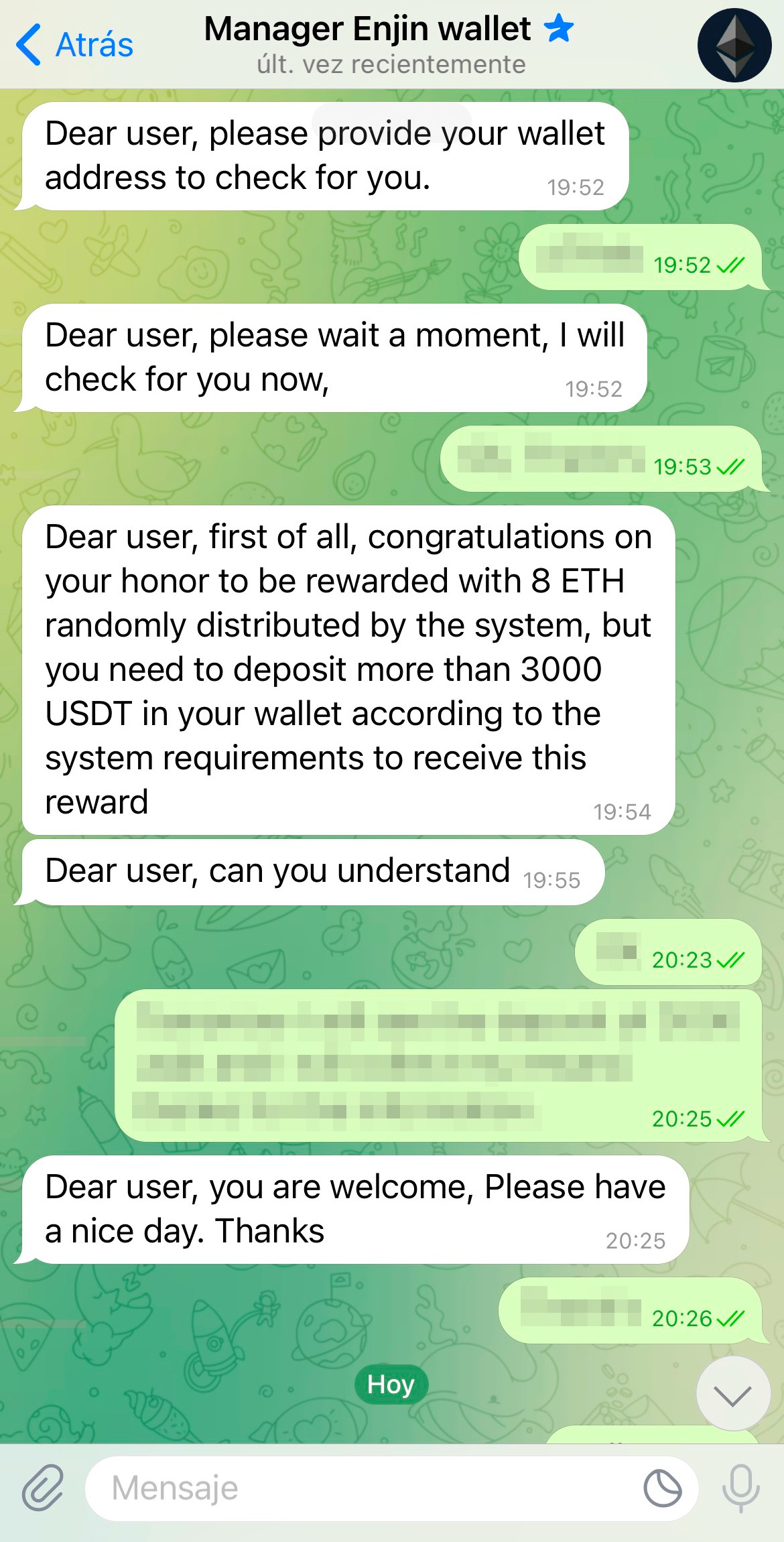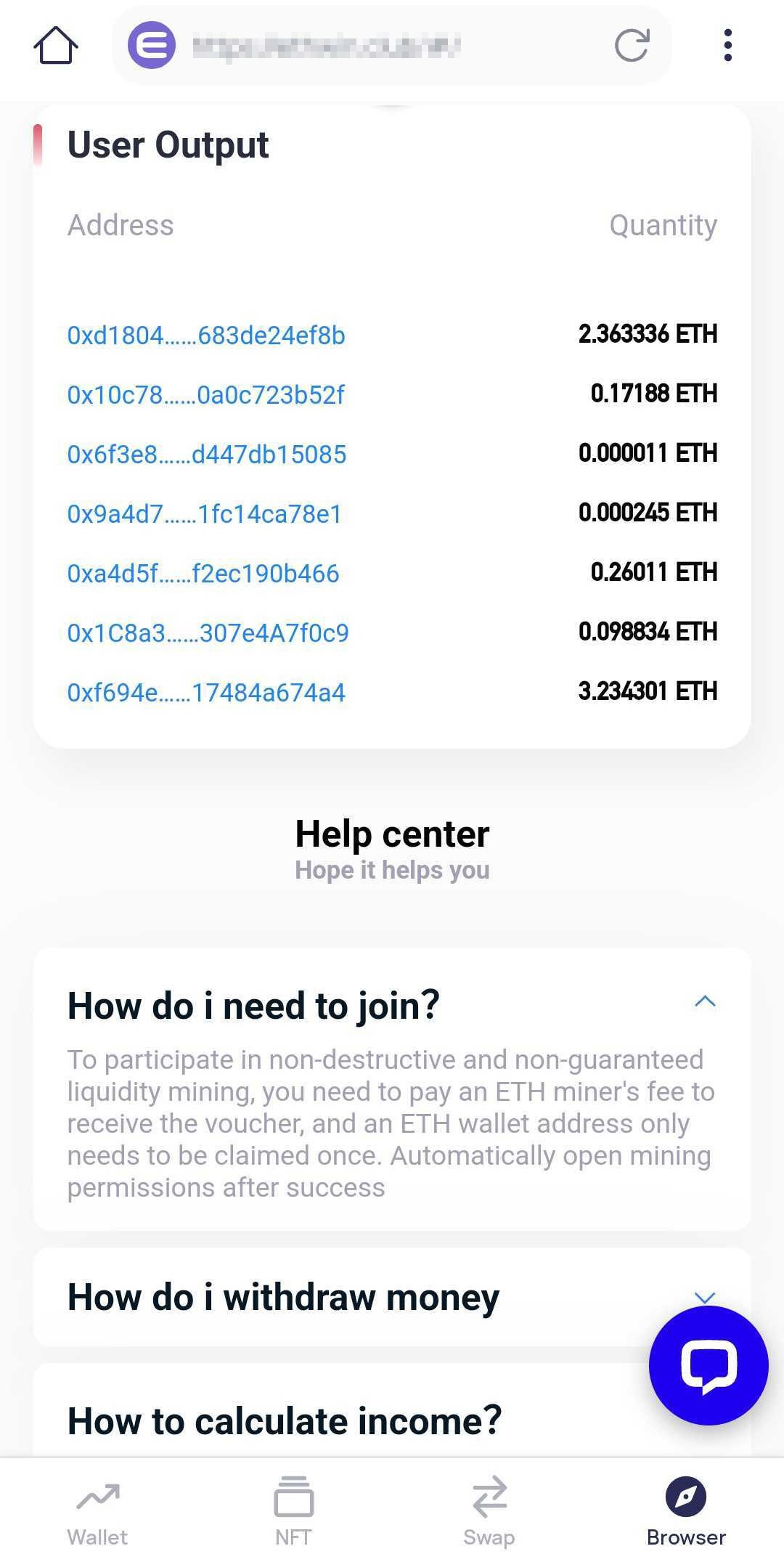 To safeguard against smart contract exploits and similar scams, it is essential to exercise caution and follow these guidelines:
Be skeptical of investment opportunities that guarantee high returns or seem too good to be true. Conduct thorough research and seek advice from trusted sources before engaging in any investment.

Carefully review and understand the transactions you are signing or approving, particularly when it involves granting access or permissions to your assets or tokens. Double-check the details and intentions behind any transaction before proceeding.

Familiarize yourself with the functionality of smart contracts and the specific token standards you are using. Understanding how these contracts work can help you detect any suspicious activities or requests.

Only interact with smart contracts and approve transactions from reputable and trusted sources. Verify the legitimacy and credibility of the projects or platforms involved before engaging in any transactions.

Stay informed about the latest security practices and developments in the blockchain and cryptocurrency space. By staying updated, you can better protect yourself against emerging scams and vulnerabilities.
Remember, scammers often exploit vulnerabilities and employ deceptive tactics to gain unauthorized access to your assets. Remaining vigilant, exercising caution, and being informed are essential steps in safeguarding your investments and protecting yourself from smart contract exploits.
If you have any doubts or suspect any fraudulent activities, it is advisable to reach out to the official Enjin Support team for assistance through email (support@enjin.io) or via ticket.
4. Counterfeit NFTs and Marketplaces
With the increasing popularity of NFTs, the risk of encountering counterfeit assets and fraudulent marketplaces has become a concern. Scammers take advantage of the demand for unique digital assets by creating fake assets, imitating renowned artists, and establishing unauthorized platforms. It's important for collectors and buyers to be vigilant and take steps to protect themselves against these scams.
One example of a counterfeit assets scam involves the creation of fake artworks within the Enjin ecosystem. Scammers may produce assets that imitate the style of well-known artists or claim to be associated with popular projects. These counterfeit assets can be misleading and deceive buyers into purchasing illegitimate or unauthorized digital assets.
To verify the authenticity of an art asset created within the Enjin ecosystem, it's recommended to use Enjin's official marketplace, NFT.io. There, users can view detailed information about each asset, including the user and wallet address responsible for its creation. This transparency allows buyers to validate the legitimacy of the asset and ensure they are engaging in transactions with verified artists.
Additionally, NFT.io provides users with the ability to report suspicious accounts, collections, or assets. If you come across an asset that you believe to be counterfeit or a marketplace listing that appears fraudulent, you can report it to the Enjin team for review. This reporting feature helps maintain the integrity of the marketplace and protects users from potential scams.
To protect yourself from counterfeit NFTs and fraudulent marketplaces, consider the following:
Research the artist or project associated with the asset. Verify their reputation and credibility through official websites, social media channels, and community engagement.

Utilize trusted NFT marketplaces like NFT.io, where you can find genuine assets created within the Enjin ecosystem.

Beware of deals that seem too good to be true. If an asset is priced significantly lower than its market value or appears suspicious, exercise caution and investigate further before making a purchase.

Engage in transactions only with reputable sellers, verified artists, and established marketplaces that prioritize authenticity, transparency and security.
By following these precautions and leveraging the resources provided by trusted platforms like NFT.io, you can mitigate the risk of falling victim to counterfeit assets and ensure that you are acquiring genuine and valuable digital assets.
Official Enjin Social Media
Official Enjin Website - enjin.io
Facebook - facebook.com/enjinsocial
Twitter - twitter.com/enjin
Instagram - instagram.com/enjin
Youtube - youtube.com/enjintv
LinkedIn - linkedin.com/company/enjin
Reddit - reddit.com/r/EnjinCoin
Discord - enj.in/discord
A Final Reminder...
Enjin will NEVER ask you for your funds, crypto, personal details or your Recovery Phrase!
NEVER send your Recovery Phrase to anyone! Additionally, never store your Recovery Phrase on a digital device, always go with the pen and paper approach.
Enjin Support and/or Enjin Team Members will NEVER reach out to you first. Enjin Support will only provide assistance via email/ticket.
Enjin's official channels are verified with a blue / gold tick. Any channels that DO NOT have this, is fake.
Enjin will NEVER add you to any group channels.
If it's too good to be true, it's likely a scam - do not fall under these scam attempts.
Stay alert, vigilant and ensure you always do your own research. Always double check usernames and group channel names.